THERE'S NO
OF SMOKE WITHOUT FIRE
NO ARTIFICIAL FLAVORS JUST REAL SMOKE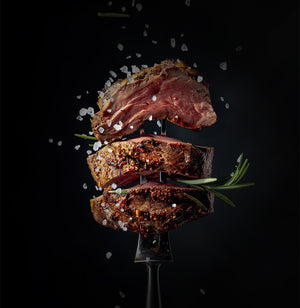 Himalayan salt, spice blends, maple sugar, oil, honey… Our wood-smoked creations give food an incomparable taste. The latter develop a particular aroma, sometimes unexpected, but always tasty!
We create seasonings that turn a simple meal into a memorable event. Isn't it said that haute cuisine is better recognized by the seasoning than by the richness of its entremets?
LES ORIGINES
Héritière de ce savoir-faire immuable et ancestral, notre entreprise est une histoire de passion, d'amour, de bons produits et, bien sûr, de fumage à l'ancienne.
C'est en 2017 à Bury, un petit village situé près de Sherbrooke, que Frédérick Martel Leech et Josianne Viau ont décidé de fonder Les As du Fumoir. Comme Frédérick aime le dire, tout le frigidaire est passé au fumoir pour que nos mélanges de saveurs voient le jour. Ainsi, d'innombrables essais et de belles découvertes nous permettent aujourd'hui d'offrir en boutique des produits originaux au caractère unique.
L'AUTHENTICITÉ ET LA QUALITÉ
Nous avons toujours à cœur de maintenir des techniques de fumage authentiques et de garantir des produits de qualité. Cela commence par une sélection méticuleuse des ingrédients et la collaboration avec des fournisseurs qui s'engagent à respecter l'environnement, à utiliser du bois de fumage québécois et à faire le moins possible de transformation.
Le désir des As du Fumoir est également de faire connaître au plus grand nombre de personnes les saveurs fumées. Nos épices apportent une touche d'originalité à votre assiette en toute simplicité, sans que vous ayez à disposer d'un fumoir à la maison.
SMOKER ON REQUEST
In our quest to make smoky taste accessible to everyone, we don't just offer smoky seasonings. Indeed, we also offer our smoking room service on request.
The limit of what we can smoke is yours. Whether it's bacon, ham, cheese or any other food, we have the perfect smoking solution for you.
contact us